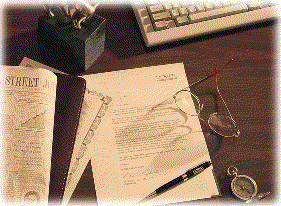 "Expect the highest regard for you and your interests at Dover Partners. Here, personal service is not an overused cliché, but rather the standard for each and every one of our clients."
-Richard A. Campbell, CFA
President, Dover Partners, Inc.
Whether you're an individual or institutional investor, our experienced professionals can help you achieve your financial goals through careful planning and management of your investments. Together, we establish a time-frame for achieving those goals and implement a strategy to create a portfolio that best suits your needs.
Utilizing one of Dover's three Equity Disciplines , we approach stock selection in a non-emotional, objective manner to provide you with long-term capital appreciation. Dover's Equity Investment Disciplines include its Large Cap Value Discipline, Large Cap Growth Discipline, and Core (Value/Growth) Discipline.
Employing one of our three Disciplines for stock selection, a portion of your assets is also allocated in fixed income securities. This portfolio provides you long-term capital appreciation from your stock holdings while offering a more defensive stance. Tax-free bonds may be used where appropriate.
Account Manager – Your Account Manager is the primary liason between your broker/custodian and Dover Partners, Inc. He or she is available for face-to-face consultations or account reviews.
Portfolio Manager – Your Portfolio Manager is an experienced investment advisor and a leading member of Dover's Investment Strategy Group. He or she welcomes client communication.
Operations Specialist – The Operations Specialist monitors trade executions and statement balances for your account to ensure security and accuracy of all transactions. Questions or concerns regarding quarterly statements can be answered by your Operations Specialist.
Account Administrator – Executes all trade decisions as directed by Dover's Investment Strategy Group. The Account Administrator is responsible for account activity and can help you resolve questions or concerns pertaining to your account.
Client Services – Upon opening your account, you will receive a Welcome Packet that includes copies of your agreement and detailed information about your account. You will also receive:
Quarterly Client Newsletter

Quarterly Performance Summary

Quarterly Statement

Available Consultations with Account Manager

Annual Client "Check-Ups
Management Fees
Equity Accounts
Balanced Accounts
Over $10 | Million Negotiable